SAN DIEGO SEO
Are you looking for an SEO in San Diego, California or any other place in the United States? Our marketing company provides increase visibility online through using our up-to-date strategies to increase your organic rankings and local map rankings in search engines like Bing, Yahoo, and Google. By having a strong online presence and online exposure using internet marketing, your business can benefit by getting more people to click on your website. This leads to more phone calls which will lead to more customers. More customers for your business is simply more revenue for your business. Organic traffic is an extremely powerful form of search engine marketing since the majority of people click on the top positions in the search engine results page (SERP). The addition of Google Map rankings for local business is also extremely beneficial. Organic SEO marketing is far more powerful than pay per click advertising, social media marketing, and can also help your online reputation management campaign. Our San Diego SEO experts are different from many marketing firms in several ways.
WHY WORK WITH US?
1st - We provide extensive research in your industry, vertical or specific niche. Not all industries are similar and even similar industries do vary from city to city and state to state. In order to fully understand your niche our team dedicates time to evaluating, understanding, and researching your industry's common practices, services and products.
2nd - We provide live results available to you at any time and any place. We believe in numbers and having our clients access to live results are vital to our business. We provide reports to show our efforts in marketing your business.
3rd - We provided customized prices. Your business is different from every other business. We don't offer cookie cutter pricing. We take into consideration the amount of work your website needs, the competition in your area, and the time we need to dedicate to your website on a monthly basis to be able to achieve positive results.
4th - We evaluate website to make sure if there is truly a market for your business in your area. We don't simply take your money just to take it. We must be able to make sure you get a return on investment (ROI) for our services. If we can't give you an ROI we will not work with you. We are simply honest.
5th - We rank our own website on the 1st page. At Top Rank Solutions, we believe in practicing what we preach. If we say we rank websites on the first page of the search engines, shouldn't our website also be ranking for the keywords we are targeting? Our top ranking SEO services have allowed us to rank many keywords on the first page of google in many cities in SD County, all over Southern California, and also across the state with our very own website.
TOP RATED SEO IN SAN DIEGO, CALIFORNIA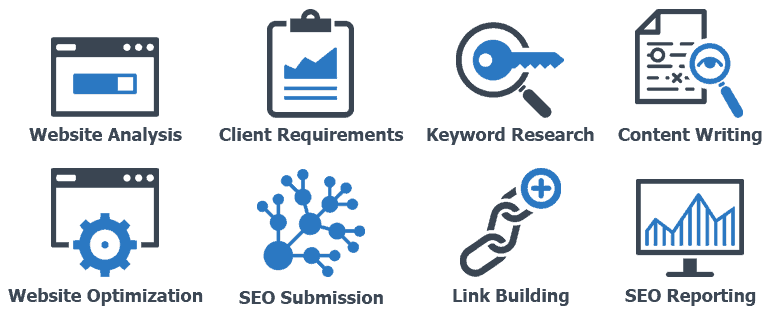 WEBSITE ANALYSIS
One of the first things we look at when working with new clients is to find out if they had any previous San Diego SEO company do any marketing on your website. There are clients that come to us looking for help due to their last local SEO marketing campaign causing more harm than good to their website. Sometimes a website might have some penalties or some very bad SEO. Our internet marketing team provides website recovery/negative marketing recovery by cleaning your web site and bad spammy links.
The first steps of making your website ready to start ranking in the SERP's is on-site optimization. This accounts for only about 25% of your rankings, but if not done right the other 75% of your SEO marketing plan will not move show you any results. Many SEO companies or guru's overlook the importance of the on page adjustments needed for any campaign to be successful.
We must first see if your business does have an opportunity to increase. We do not work with every local business, we only work with businesses who have a positive reputation and who understand the value of ranking higher in the search engines.
ON-PAGE OPTIMIZATION AND RESEARCH
Working With US - When hiring an SEO consultant you should be getting the best SEO services available. We provide extensive keyword research before even working together. This research will let u know the best way to provide an ROI for your business and see if there is even a market for it. Most marketers will take your money even if there is no opportunity of an ROI. We have access to 5 different tools that tell us what keywords are best for your business and what additional keyword you can potential rank for. Not every SEO firm has access to that many keyword research software.
Website Structure - Having the right structure on your website will help you rank for more keywords than you intend to rank for. This process is something usually done during web design, but in some cases, we do recommend we restructure your website for increased online exposure. This is not done for all business. This part can be a huge factor if not done properly. Having the right keywords in the URL can either help ranking a page, but if done wrong it can also hurt a websites position in the rankings.
Keyword Research - Most marketers only use 1 tool to do their research, but we have 5 tools to help us narrow down the important keywords related to your business or industry. This is a vital part of any campaign and must be highly researched. Sometimes keyword research can be done with common sense and with knowledge of the industry or niche. As marketers, we fully understand this outside the box thinking because Google does not always reveal all its cards in their keyword research tool.
URL Structure - Without the right URL structure, it is 10 times hard to get the same results as our SEO agency. Having the right Uniform Resource Locator (URL) structure is one of the most important parts of on-site optimization. The right URL's help the search engines understand what the page will be about. Having the right keywords in the URL's creates relevance and adds weight to a page or post which allows it to rank higher.
Page Titles - Setting the right page descriptions to tell Google, Bing, and Yahoo what your website is about. If one of your pages is about tile cleaning, we make sure the page title is set for what the page is about. This is one of the biggest mistakes most marketers fail to do and many times they don't even realize your title can only have a certain amount of characters.
Page Descriptions - If you tile cleaning page has a description about carpet cleaning instead of title cleaning do you think it will help you? Having an optimized description will help increase your ranking and will show relevance to the search engines.
Content Writing - If you business is about carpet cleaning, then your website's content better be about carpet cleaning. We take a look at your current website and see if there is room for improvement. Using the keyword research from our fist step we naturally insert those keywords in your content to help you rank for a wider range of keywords. Content is one of the most important ranking factors especially for long tail keywords.
OFF-PAGE OPTIMIZATION
Google Map Verification - Getting your business listing claimed and fully optimized is the first step to off-site optimization. Your Google map listing is vital in local search and will help you get more calls to your business
Directory Submission/Directory Correction - Getting your business in nationally recognized directories and also local directories is a very important step. These submissions include websites like Yelp, Yahoo, Better Business Bureau (BBB), City Local, and local city directories. There are many instances where you directory listings are inaccurate which can lead to potential clients not being able to find your location or phone number. Having one of our team members with years of expertise look at your listings can help determine if your inaccurate listings are actually hurting your business online.
Social Media - Having the right social media accounts optimized will help you website get more visits and could potentially get your customers straight from places like Facebook or Yelp.
Video Creation - Depending on your business, having a video can help your business with exposure. Having an optimized video is very powerful especially when it shows up on Googles's page one for your keywords. We also offer video ranking and marketing that can help dominate the first page.
Press Release - A press release can help you local business make a buzz through your community. A press release is not always necessary, but in many cases, it can help. This can also help your website get links back from other websites.
Link Building - Getting links from other websites is very powerful and can help increase your rankings. Getting links from websites through your content, social media, blog, guest blogging, and other forms of natural link building are what separates our team from other SEO team near you.
At Top Rank Solutions we have worked with the following business : General Contractors, Dentist, Dental Clinics, Medical Spas, Cosmetic Surgeons, Carpet Cleaners, Roofers, Plumbers, Day Spas, Hair Salons, Pool Builders, Landscaping, Lawyers, Law Firms, Solar Companies, Home Builders, Car Dealers, Photographers, Wedding Planners, Manufacturing companies, Home Remodeling and Doctors.