SAN DIEGO SEO CONSULTANT
Search engine optimization gives you the opportunity to rank your website among the top positions in the search engines. If you can position your website in the top 3 spots in Google, for example, your business will get more web traffic, more phone calls, and more revenue than your competitors. There are map rankings and also organic rankings. Map rankings are very important since they are the first to appear on especially on mobile device searches. Mobile searches now account to than desktop account to Google since March 5, 2015. Our marketing team has high levels of Google map training in our arsenal and we consistently provide business owners amazing results. Organic rankings are also one of the most powerful types of internet marketing. Organic traffic is another way of saying the traffic your website receives from the natural ranking of your websites in search engines like Bing, Google, and Yahoo.
TOP RANK SOLUTIONS SEO SERVICES
Our online marketers are experts at website optimization and in many cases having the right keywords in your website can achieve spectacular results and when combined with our proprietary online marketing we simply crush your competitors. This type of marketing is very complicated and has many layers and strategies than can be used to move your website up the Search Engine Results Page (SERP). If you have no idea about the processes, that is where our SEO consulting team takes over your online marketing.
We fully understand the difficulty of learning website optimization, but coming to us for help is the first step in the right direction. There is a reason why we take our cars to a mechanic and why we also go to a barber shop or hair salon. They are the specialist in their fields and so are we.
It is true that web marketing can help your business attract many clients, but this is not enough. Your company should be able to convert this organic traffic into leads or direct sales. Here are only a few key things that can help your website move up the SERP's.
SEO CONSULTANT SAN DIEGO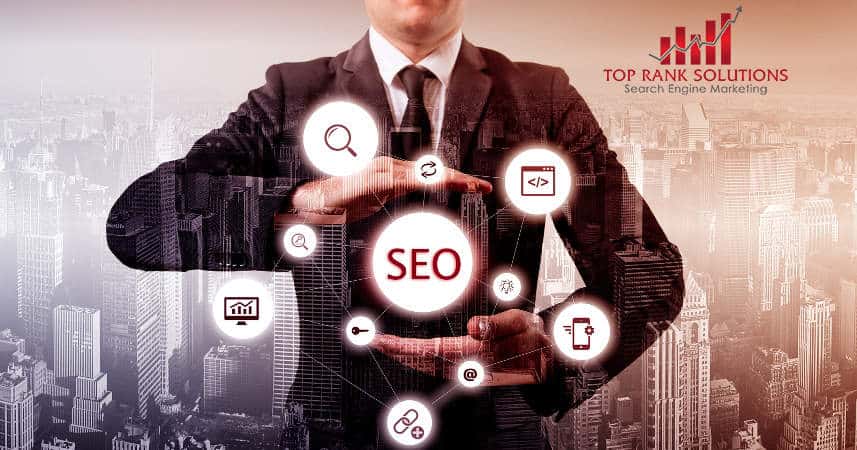 KEYWORD RESEARCH
Internet users rely on keywords to search their queries. Finding the relevant keywords related to your business services or products in vital in order to implement those changes on your website. Analyzing your competitors and those ranking at the top is important and provides a guideline to how we will structure and optimize your website. It is also important to create high-quality content that is not spammy in order to fully optimize your website and provide your visitors with valuable information. Top Rank Solutions has access to 5 keyword research tools that help us determine the best-related keywords for your business. We don't try to make your website sound pretty instead we use keywords people are actually looking for when looking for local services or products your business provides.
KEYWORD OPTIMIZATION
A well-optimized website is likely to attract more viewers by either being higher place in the rankings or by having useful content. This process starts by inserting the keywords in your URL's of your website without overstuffing them. We make sure that these keywords are targeting a certain services/product instead of trying to use one keyword to target all your services or products. We don't stuff the content with keywords; Google can spot these articles and will get less trust by Google which will make your pages drop in the rankings. We make sure the content is easy to read so that customers understand exactly what they are reading and are getting valuable information about your service or products. Our team builds individual pages that help to target the keywords/services/products your business provides instead of using one page to target all your services or products.
RANKING YOUR WEBSITE
This is not an easy task, but if your on-page optimization is not done right, this step will never happen regardless matter what other outside influences are made. This process needs a well well-thought-out customer strategy, effort, expertise, experience and more importantly time. A marketing campaign will take 9+ months to fully see a return on your investment and in some cases depending on the competition, city size and current rankings it could take longer. Our team is not one dimension when it comes to getting rankings. We implement a fully internet marketing plan which incorporates social media, video marketing, link building, and much more.
LONG TERM INVESTMENT
The goal of our company is to provide a long-term ROI not just a few months of glory. One way to see if our service is working is to simply look at the traffic coming to your website and also see the rankings of your targeted keywords are moving up the search engine results. At Top Rank Solutions we provide monthly reports on the traffic to your site. We also give our clients the ability to check their rankings any time of the month.